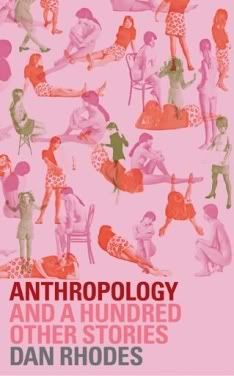 The debut book of Dan Rhodes,
Anthropology
, is constructed of 101 stories, each skillfully assembled with 101 words. The stories are titled with one word each and arranged alphabetically from
Anthropology
to
Words
— with
Eggs
,
Kangaroo
, and
Naked
sandwiched in-between. Each mini-short story, starring a girlfriend or ex-girlfriend, revolves around love or lust. Dan Rhodes explores new love, old love, and lost love with poetic prose. He highlights the ups and downs of cohabitation and the shining spirits and pathetic creatures relationships create.
Some of the tales are outlandishly staged with humorous plot-twists and intelligent wordplay. In one story, an unfortunate girlfriend is stuffed by a taxidermist, while another survives a shipwreck and a year lost at sea. Several stories honor romance, while others depict pitiful men pining after the girls who got away. Some men are hurt by heartless harlots, while others get lucky, striking priceless girl-gold. One couple, because of their overpowering love, cannot stop kissing. The husband says, "Our lips are four broken scabs, and our chins are always covered in blood, but we will never stop. We are far too much in love." Stephen King, meet Nicholas Sparks.
Not all of Rhodes's characters are oral masochists, but each is affected by love. One man carries a placard in honor of his girlfriend's beauty, while another wonders why he loves such a plain-faced girl. Every day he comes home from work doubting his devotion, but when he opens the front door and sees his homely girlfriend, he always falls back in love. Another less endearing girlfriend steals money from a blind beggar to purchase lipstick, while another unscrupulous woman "keeps catching venereal diseases from the toilet seats of faraway towns."
In
Anthropology
, humor and pathos hold hands without losing their emotional individuality. Dan Rhodes blends hilarity and misery as he creates melancholy men, maniacal women, spineless boyfriends, and angelic girlfriends. He encapsulates the world of romance 101 times, using wit and exaggerative humor. Anthropology stands up and defends the beauty of love and illustrates the harm done when lovers give up and walk away. In 10,201 words, Rhodes comically summarizes all the stupid things people do in the name of love, but he also illustrates how wonderful that love can be.
...
*Originally published in the
Charleston City Paper
. Also, the
Book Tower
took one step forward and two steps back.